When:
September 26, 2020 – September 27, 2020
all-day
2020-09-26T00:00:00-04:00
2020-09-28T00:00:00-04:00
Where:
Good Evening Ranch Off-Road Park
539 Exotic Drive
Canvas
WV 26662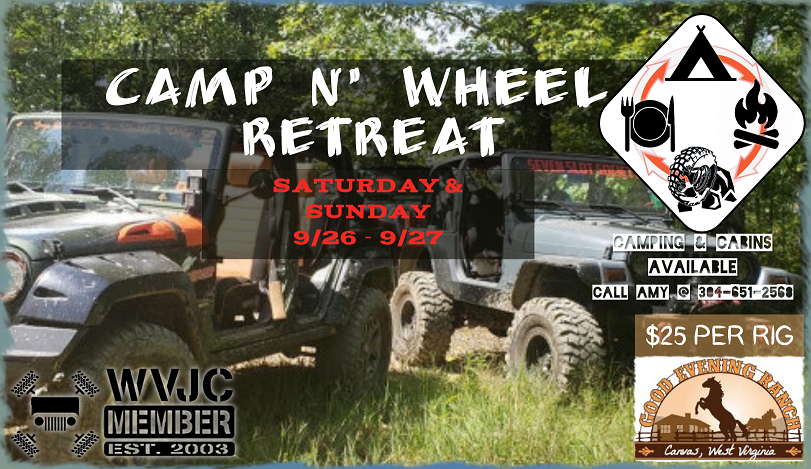 WHEN: 9/26/2020 – 9/27/2020 All day event.
WHERE: Good Evening Ranch Off-Road Park (539 Exotic Drive, Canvas, WV 26662)
We rented out the Good Evening Ranch Off-Road Park to give our members a weekend retreat packed full of adventure. All members and their family and guests are invited to join us for trail riding, off-roading 101 sessions, communication 101 sessions, group dinner Saturday, more trail riding, camping, and good company.
There is a trail fee of $25 per vehicle per day and a waiver that must be signed prior to going on the trails. This can be taken care of at the main building when you arrive in person.  Most of the wheeling will happen Saturday.
The trails are suitable to ALL. No matter your experience or Jeep build you will have a lot of fun on the trails. Maps will be provided and group rides scheduled the day of.  If you don't want to go on the trails, there are multiple fishing ponds, Horses to look at, off-road and communication sessions to attend, a group dinner, camping, and maybe even a few games to play; so you're still invited to come and have a great time.
Camping and cabins are available. First come first serve. Call Amy at 304-651-2568 to reserve your camping or cabin.
Primitive Camping (no water or electric): $10/night

Campsites (water and electric provided): $35/night

2 person Cabin: $150/night

6 person Cabin: $300/night

8 person Cabin: $400/night
***NO GLASS – SEAT BELTS WORN AT ALL TIMES – NO CUTTING OR MOVING ROCKS/TREES (unless it's an emergency) ***