Here are some pictures of the 8.8 in my Xj. I know there are several people here who also have the 8.8 so feel free to chime in with other info. I know there have been some really nice write ups on the 8.8 builds on here.
under the Jeep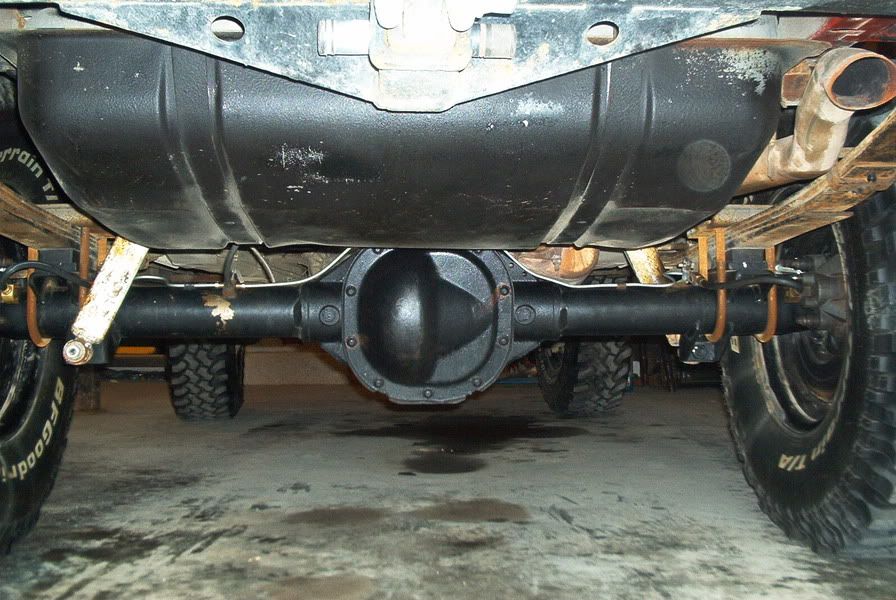 You can see a LITTLE bit of a difference in the width (I think its .68"/side)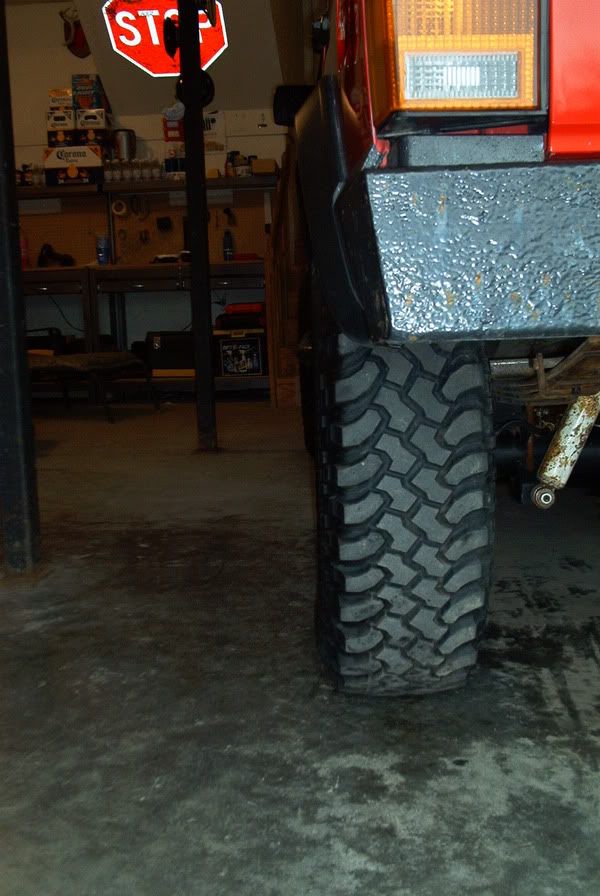 Welded up tubes, the 8.8 has a weak linkin the tubes so welding around them will help strengthen them and help keep them from spinning under torque.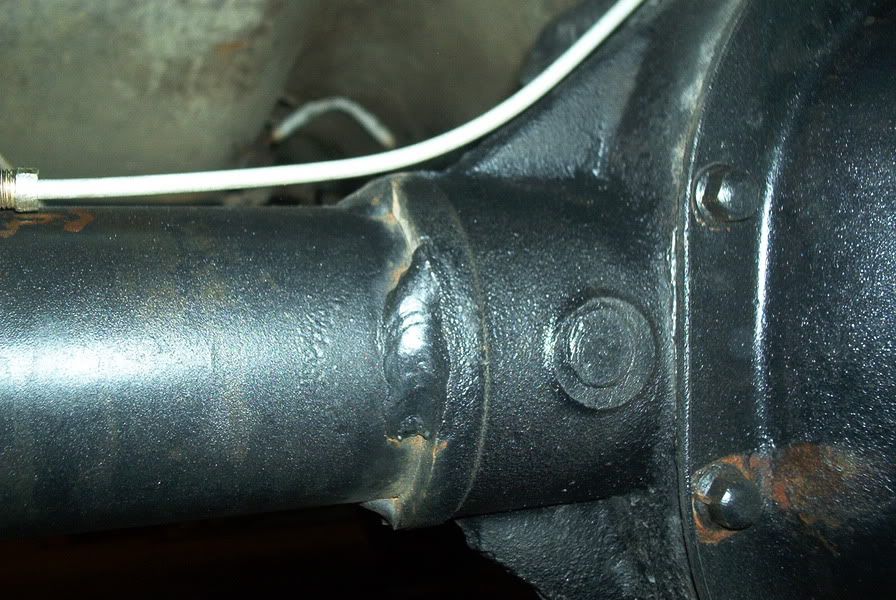 Here are a couple pictures of the ZJ rear Ebrake cables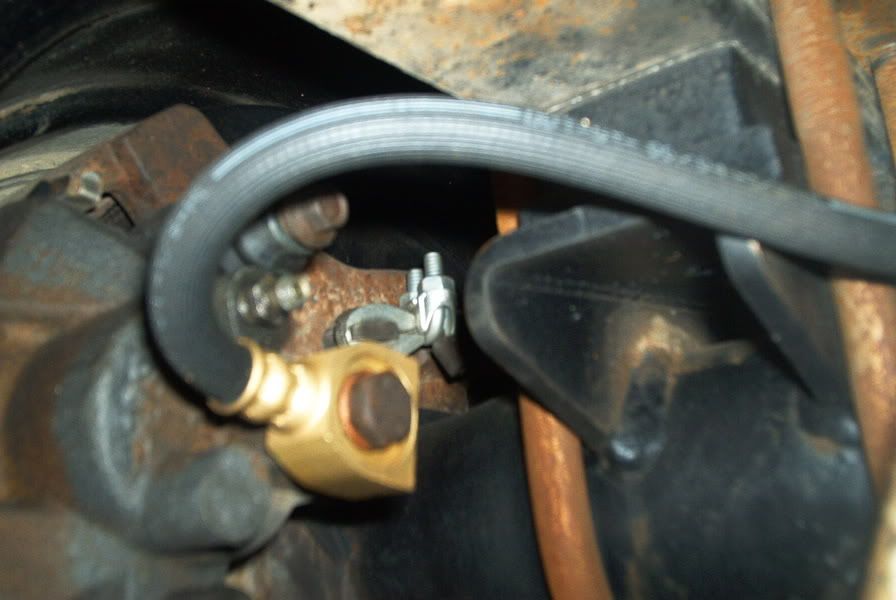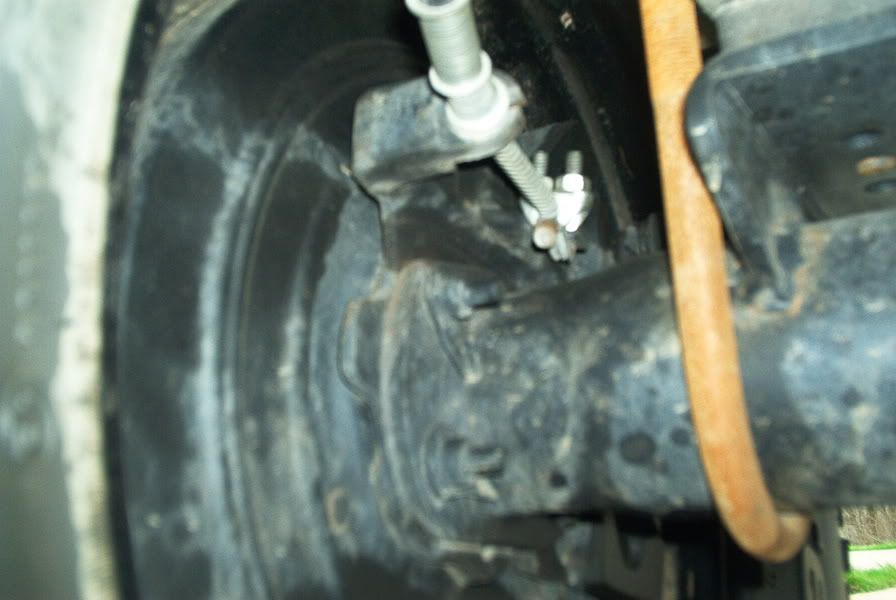 On my Jeep the molded pieces holding the Ebrake cables started pulling together under the pressure so here is a shot of the small tube welded to keep them from pulling together.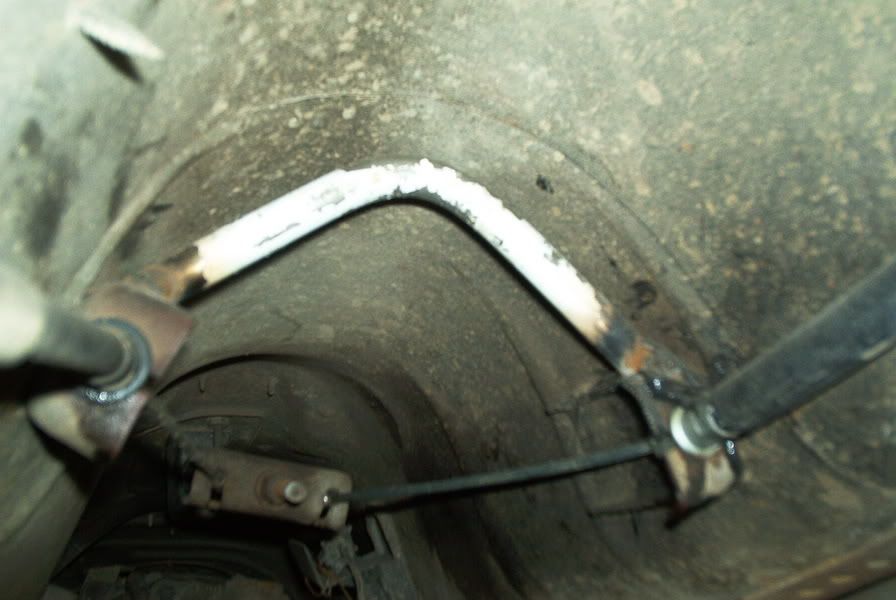 Ford 8.8 assembly specs:
Cover bolt 28-38 ft.lbs.
Pinion bearing preload 16-29 in.lbs.
Pinion bearing preload 8-14 in.lbs (used)
Ring gear backlash .008-.015
Ring gear bolt to case 70-85 ft.lbs
Side bearing caps 70-85 ft.lbs.
Explorer 8.8 Measurements:
Weight (complete assembly w/ brakes etc.): 174 lb.
O.D. of tubes: 3.250".
Tube thickness: .250" (some are .188"!)
Ring gear diameter: 8.800".
Ring gear bolts: 7/16" dia. (qty. 10).
Pinion diameter/splines: 1.625 / 30.
Axle shaft/splines: 1.320 / 31.
Rotor thickness (where it mounts to axle is .250").
Overall width 59.625" (the F8.8 is .950" narrower then a TJ Dana 35).
(The F-150 8.8 is drum brake and width WMS to WMS is 65.5".)
Hole diameter for ABS sensor in top of housing: .811".
Bolt size (U-joint flange to yoke) is: 12 x 1.75 x 30 mm
Centerline of housing to C/L of pinion difference is 3.875" toward the P/S.
Pinion offset: P/S to C/L of Pinion, 27-3/4" (no rotor on axle), D/S to C/L of Pinion, 31-5/8" (no rotor on axle). (this measurement is 2.5" more offset to the P/S then a TJ Dana 35).
Specs:
Code Capacity Ratio
43 Open 3200 3.08
41 Open 3200 3.27
42 Open 4.10
46 Open 3.73
45 Open 3200 3.55
D4 Limited Slip 3200 3.73
D2 Limited Slip 4.10
L73 Limited Slip 3.73
L - Limited Slip Differential
C - Conventional Differential
How many splines are the axle shafts?
drivers side is 31 spline for 97 & up Mountaineer, 95 & up Explorer, 30-1/2 inch length - 5 X 4.5 inch lug pattern.
passenger side is 31 spline for 97 & up Mountaineer, 95 & up Explorer, 27-5/8 inch length - 5 X 4.5 inch lug pattern
Can I get 35 spline shafts? Yes, with a little searching I found 28 and 33 splines too. Remeber 8.8 axles are used on many different Ford rigs. Mustangs, Rangers, F150s, Aerostar etc... different axle lengths than the Explorer so if you are looking for aftermarket products make sure you are not looking at something for a Mustang that might not fit an Explorer. For the 35 spline stuff check with Mark Williams site. i dont have a link yet but i will soon.
Do I need a slip yoke eliminator? In my opinion, yes
Can I use my drive shaft that I bought for my SYE/Dana 35 set-up? Yes
Is the 8.8 narrower than a Dana 35? Yes but not enough to make a difference when running most aftermarket wheels.1.5" shorter or so. It doesn't matter unless you try running stock rims w/12.5 or wider tires.
Are the 8.8 shafts stronger than Dana 44 shafts? Yes, also the bearings, pinion and ring gear are also much larger.
Axle shaft Strength and output torque rating by Warn and 4 Wheeler
The axle shaft strength tested by Warn Ind:
F8.8= 6,500 (lb. ft.)
D44= 4,600-5,000 (lb. ft.)
D35C= 4,000-4,300 (lb. ft.)
COT: Continuous output torque rating
MOT: Maximum output torque rating
(Numbers from January edition of Fourwheeler, page 60.)
Dana 35 rear axle COT: 870 MOT: 3480
Dana 44 rear axle COT: 1100 MOT: 4460
Ford 8.8 28spline COT: 1250 MOT: 4600
Ford 8.8 31spline COT: 1360 MOT: 5100
Dana60 semifloat COT: 1500 MOT: 5500]
Will I need that brake proportioning valve from a Rubicon? Probably not
Does the 8.8 offer more ground clearance over the Dana 35 and 44? Not under the differential but the bigger axle tubes lift the rig about 5/8 ".
Is there welding involved? Yes, but the new brackets you put on are much stronger than stock Dana's. Not a good idea to re use your old Dana 35 brackets
Where do I get brackets?
4x4 Group Buy has Rubicon Express for $225+shipping.
Bob Supplee has Tera for $220 shipped.
DC4WD has Tera for $217 shipped. thanks jamie 9/21/05
Carolina Rock Shop (call or email for price quote)
TeraFlex TMI-ABK-TR $250.99
M.O.R.E. Dana 35 brackets (sku:MORE98700)
Rubicon Express RE9969 TJ Axle Bracket Kit Rear
Mad4wd.com (sku:Mad-BKTK-TJ1)
Link to axle bracket placement on Stu Olson's site
The list above should get you headed in the right direction as far as brackets go. Look around and compare prices as the brackets can be found for $200.00 or less shipped sometimes. Keep this in mind when shopping for any item for your build-up,if you do, you will save a bundle.
Can I reuse my Dana 35 brackets? Yes, but it is not recomended. The stock Dana 35 brackets are sort of flimsy compared to the beefy aftermarket versions. Some of the brackets available are in fact for Dana 35 axles to replace the weak ones that come factory. Reusing the D-35 brackets is time consuming even if you have the right tools, not a good idea IMO
Should I weld the axle tubes to the cast housing? I would if it had been salvaged from a wrecked rig. If it is new on a crate (in my opinion) don't bother.
What is the bolt pattern? 5 on 4.5" just like stock TJ/YJ wheels.
Will my Jeep lug nuts fit the 8.8? In most cases, yes.
What do I do with the speed sensor? leave it in place.
SUPER 8.8 Instal Link (STU's Site)
Here is the Jeep Unlimited Link for the 8.8 INFO
- This is a good link for those looking to learn more about doing an 8.8 swap.
And the last piece of info I think you should need is a contact to pick up an 8.8. PM
JunkYardDog
here on JeepinWV.com and he'll hook you up.
Jason