All the parts I used came from Tractor Supply, but could be found at any hardware store.
If you have any questions or suggestions let me know, I'll take more pics if needed.
Parts List: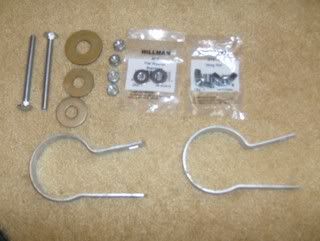 2- 2 3/8" Chainlink fence tension bands.
2- 5/16"x3" Carriage Bolts
2- 5/16" nuts (the picture shows 4, but I only needed 2)
2- 5/16" flat washers
2- 5/16" wing nuts
2- larger thick washers
1- very large thick washer
The parts came up to $4.19
First, you will need to bend the tension bands to better fit the roll bars. Bend the place indicated alittle more than it came, this allows the band to clamp onto the roll bar. The red line shows the new position of the piece.
Next, place one of the bands around the driver side roll bar with the flat side of the band facing towards the rear. Thread a nut on the carriage bolt and leave loose until the final position is determined. If the band doesn't fit snug around the roll bar, remove it and bend it more.
Next, place the other band around the passenger side roll bar with the flat side facing inward towards the rear seat. Again place a nut on the carriage bolt loosly till the final placement is determined.
Now put the HiLift in, placing the bolt on the passenger side through the top center hole in the jack base. For the driver side bolt to line up, the clamp piece must be turned down. Adjust the placement of the bands then remove the jack and tighten up the bands. Place the jack back into the mounts and use the washers and wing nuts to secure it. One large washer with a small hole could be used on both ends, but I couldn't find any.